Three Day Common Loon Workshop
Three Day Common Loon Workshop
"Kevin's (K1) accessibility to answer my questions regarding gear, scope and expectations made me quickly realize that this is more of a passion than a business for Kevin. The accommodations are resort like…..a brand new cottage with all the amenities on a beautiful secluded lake. Kevin is quite a cook! Delicious plentiful home cooked meals. Kevin's knowledge of the Lake and Loon habits made for an enjoyable easy weekend resulting in plenty of "keeper" shots. Kevin did not stop until we were satisfied. I did not consider the weekend a workshop but rather a weekend at the cottage where I spent time photographing Loons, eating and drinking with friends with some photo post processing in between. Kevin…thanks for the great time and I hope to see you next year." - Nando T.
In the Kawarthas, an area positioned one and a half hours north east of Toronto, both water and land are equally impressive. The shimmering lakes and rivers that offer breathtaking sun rises and sunsets are abundant and are home to an abundance of wildlife.
The Kawarthas also boasts fish-rich waters and an abundance of water fowl such as the Common Loon. Our destination, Lake Salerno continues to be home to migratory Loons that keep coming back year after year. These beautiful birds offer the avid photographer plenty of opportunity to photograph them in their natural habitat.
The numbers of Loons that we track every year total a minimum of four mating pairs on each of the local lakes. We have timed their patterns and have identified their nests to ensure that we get you to the right spot, at the right time to achieve the best photography opportunities under the best light.
We also offer you a very stable boat that is ideal for Loon photography. The boat offers 4 comfortable seats designed for low angle photography. The boat has a flat floor as well as an outboard motor that will get us to our destination quickly. When we arrive we will get you in close to the loons & offer you up close photo opportunities that you won't get on your own.
What You Will Learn:
We will focus on planning for a successful shoot... from clothing, to gear, to positioning and planning techniques.
When we are out photographing the loons we will discuss camera settings, holding your camera properly and what settings to consider using to maximize the number of shots that you consider a "keeper".
We will also discuss bird habits to watch for to increase your success.
When we return to the cottage each evening, we will then open up our laptops and discuss editing techniques. Such as, how to achieve sharper images, composition from cropping and introduce you to some techniques we use to create more appealing images.
Itinerary:
Day One Events: You will arrive at our home up north in the afternoon. That night is all about getting to know each other and hopefully getting out near the water for some night waterscapes and sunset photography in the local forest, or over the lake.
Day Two Events: We will be on the water for the early morning light and by mid-morning we will return in order to rest and have some breakfast. We will then head out and photograph other local sights such as the resident Herons, beavers and enticing landscape photos, or maybe some action photography at the Olympic Kayak run in Minden.
For those that wish, we can also go photograph the wolves at Haliburton Wild Life Preserve, one of the best chances you will get to photograph wolves in a natural setting. .
We will all then gather for more loon photography later in the day.
Day Three Events: The last morning offers you one last time to get out on the water to follow the Loons before returning for a final breakfast and your departure home in the afternoon.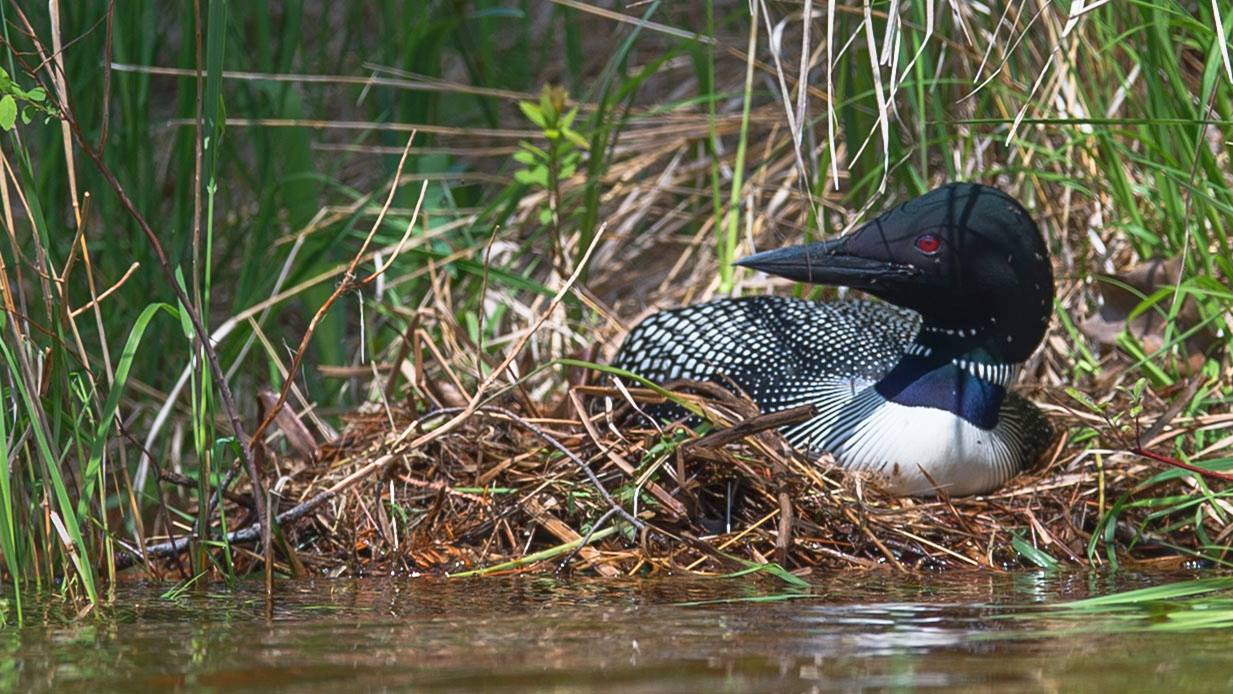 Price: $695 plus HST
Number of attendees: Maximum 3
Included: Two nights' single accommodation at our private home, two breakfasts, Snacks on the first night, dinner on second night, all beverages inc.
Booking weekends June, July, August 2019
Mid week bookings are available, please click on the join us tab below for all date inquiries.
The loons are waiting for you. Click on the button below and we will see you in the Kawarthas!